Applications for the Aqua-Dock Floating Platform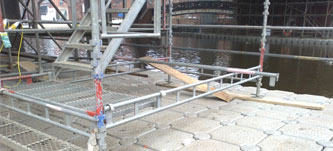 Aqua-dock design and manufacture the high strength, high buoyancy polyethylene modules and fittings in the UK so you can be assured of an infinite number of cost-effective configurations combined with a personal, highly experienced service in the delivery of bespoke solutions to our clients' exacting specifications. The floats are made without welds or joints so no weak points exist.
All our highly buoyant structures are made from blow moulded Polyethylene modules which are incredibly strong and fully resistant to weather and water. As all our components are modular, we can assemble any configuration to your specifications, quickly and to the highest safety standards.
Marinas, harbours, landing stages, dry docking for boats, swimming platforms, floating foundations for garden buildings/garages and even pens for aqua-culture, our structures can be planned to be permanent or temporary.
We provide a 360 degree service, from manufacturing the modules, storing all the stock items, planning your design, completing the installation, ensuring the correct Health and Safety considerations are in place to removing our products if required. We manage every part of your project so you can concentrate on other important details. With Aqua-dock you only need to deal with one company which ensures that your event or project is a complete success and as there are no middle-men, the price savings can be considerable without reducing the efficiency or the quality of our products and service.